CSR Certified
VK DATA takes social responsibility
---
On Tuesday 29 November 2022, we received more than just the Børsen Gazelle award - we also received a CSR certificate from Tønder Municipality. Another certificate that we are very proud of, since we work daily with various CSR goals that relate to the 17 Global Goals.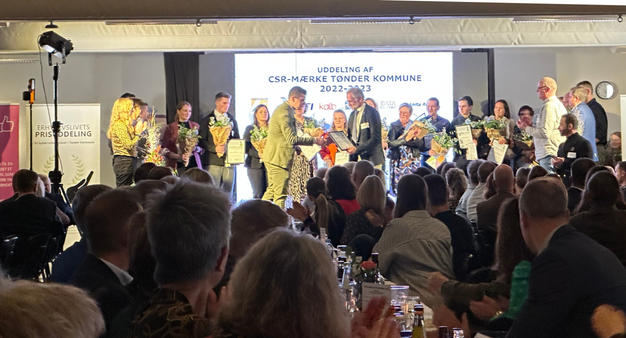 Quite simply, CSR stands for Corporate Social Responsibility and is about companies having to show social responsibility and share responsibility in society. The CSR certificate from Tønder Municipality can be awarded if the company is located in Tønder Municipality and meets some specific requirements, which you can read about here 
Education of students
VK DATA has been discontinued because we educate a great many students. We take great pride in educating our students, since we work in a field where quality and competences must be top notch. Among other things, we train our own developers so that we achieve high quality, efficiency and the right skills that are necessary to be a developer at VK DATA. After the students' education, we hope to subsequently be able to offer them permanent work. 
We generally have a lot of programmer students, where we believe that several students in the same company provide a great deal of independence, since the students help each other across levels and skills. This also provides an incredibly good sparring and learning environment, which our trained staff, who must ensure quality and a proper learning environment, also benefit greatly from. 
Global goals for everyday goals
Educating students relates to SDGs 4 and 8, in the sense that it is about quality education, equal access to technical education for both women and men, and the achievement of full and productive employment and decent work for all. We know that it can be difficult to deal with the many and large World Goals, which is also the reason why we have developed an App. Our SDGS App has been developed for handling and displaying companies' efforts within the 17 World Goals.

We ourselves use the App actively - we have set some internal goals at VK DATA, where these goals have been defined based on goals and sub-goals among the 17 World Goals. The app allows easy monitoring of goals, actions and progress. With the App, we want to make it easy and clear for companies to work with CSR in everyday life, so that World Goals easily become everyday goals. 
In addition to educating students, we also accept business trainees, we have introduced a daily Walk & Talk of 20 minutes to promote health among our employees - just as our employees are also offered acupuncture, massage and physiotherapy at an advantageous price, where the treatment is performed during working hours. We believe that these measures support the employees' physical and mental health. We are in an industry where our employees must be able to create an overview and handle many tasks at the same time, which is why it is extra important to have mental energy. 
On the material level, we only buy used IT equipment and office furniture and we drive an electric car when we are visiting customers or have other forms of business driving.