VK DATA ApS & Børsen Gazelle
---
​
VK DATA was again in 2021 the lucky recipient of a Børsen Gazelle award. On Tuesday 29 November 2022, we were in Aarhus to receive the award.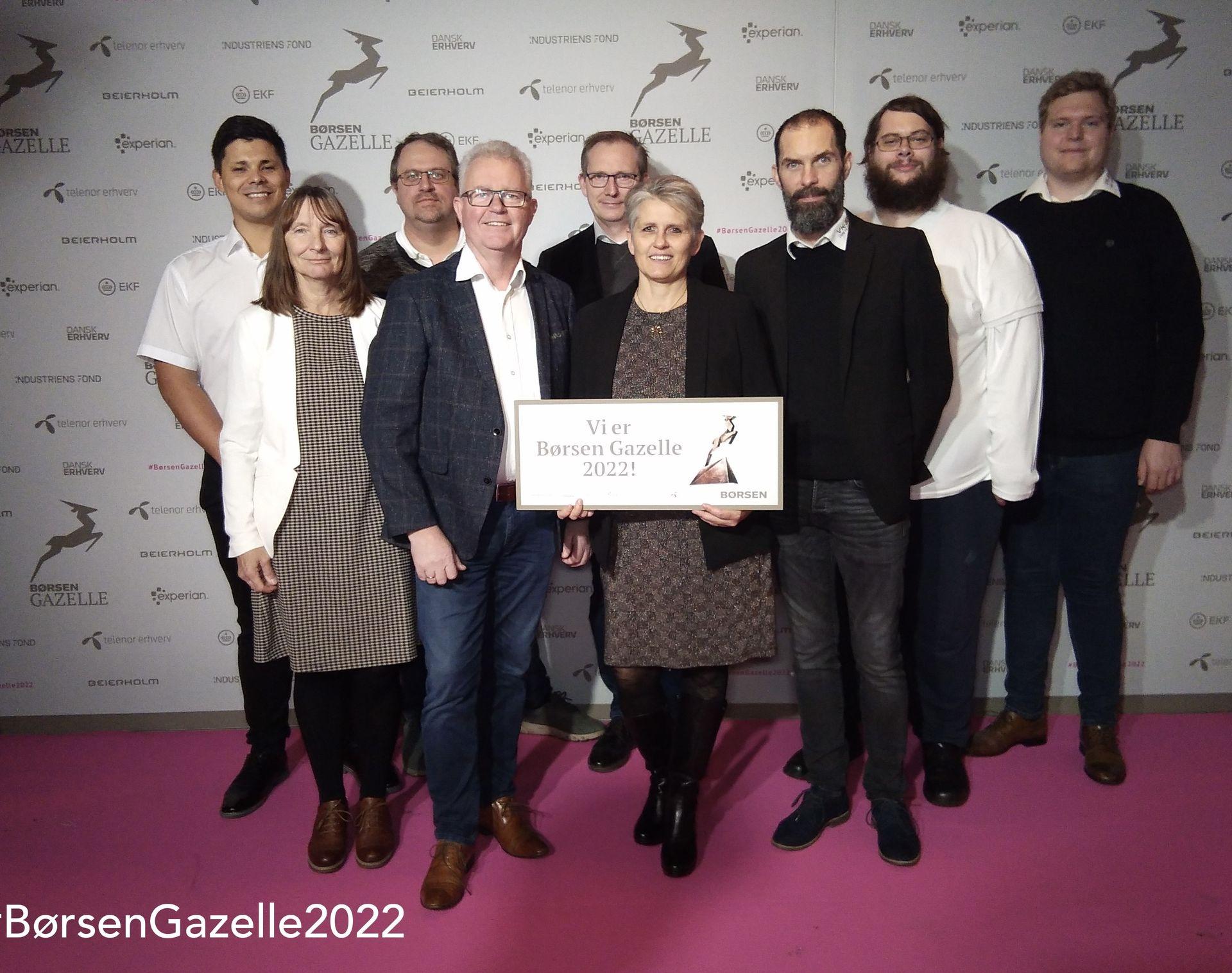 We are very proud that we have managed to grow two years in a row - especially when we consider that there has been corona, which has created major changes in the labor market and for companies around the world. However, we also know that growth does not come by itself, so how have we actually managed to receive a Gazelle for the year 2021? 
Digitization makes homework possible
The short answer is that many companies have, during the corona crisis, opened their eyes to the advantages of digitalisation. Many companies had to let employees work from home due to the risk of infection and the shutdown of society, however, several companies could not get a workflow to work with home work during the shutdown, which unfortunately resulted in many layoffs. 
 The secret to making the workflow work is to have a system that supports communication and collaboration, even if the employees are not sitting in the same place. Such a system must be able to work online and must be accessible on all devices, such as PC, tablet and mobile, in contrast to the more old-fashioned systems that require connection to a server and extra security. During the crisis, VK DATA has of course shared the secret and been helpful with installations of, among other things Google Workspace, ISL-online and Odoo ERP-system, where it is precisely possible to collaborate in an online system that is accessible to everyone, on all devices and where communication across platforms and tasks is easy and clear.

The home workplace is still frequently used, as many employees achieved a better work-life balance and actually increased productivity. We also make use of our online systems ourselves and offer our employees opportunity for homework, when the need is there. 
Another background for our growth in 2021 is that we have some good customers and business partners. We mainly work with stable customers who, in 2021, were fortunately not within the industries that were hit hardest by corona and the shutdown of society. They stood. together with VK DATA, through the crisis and have also come out well on the other side. 
Increasing interest in digitization
The increasing interest in digitization could, and can, certainly be felt here. That is why we invested heavily in January 2022, when we hired six new employees, in order to meet the growth potential we saw during 2021. The investment in new employees has proven to be the right solution for us. This despite the fact that, shortly after the appointments, we faced Russia's invasion of Ukraine, the subsequent energy crisis, and inflation. We have made some small adjustments in the personnel composition, which has resulted in us now having a stable, well-founded and skilled team, which we know is ready for 2023, where we can already track a high search and demand for​ Odoo ERP-system. 
Looking ahead, we expect that the new accounting law will contribute to our further growth in 2023. As soon as the various rules for the new bookkeeping act come into force, companies need to have a system that can support the new act and the accompanying rules. We believe that this will have a major impact on the sales of the Odoo ERP system, as well as our offer on accounting assistance. With a strong team, we are more than ready for 2023 and all that the year has to offer.