What is Odoo?
Odoo is a suite of business management software tools including, for example, CRM, e-commerce, billing, accounting, manufacturing, warehouse, project management, and inventory management. These modules aim to efficiently and seamlessly communicate with each other to exchange information. The source code for the framework and core ERP modules is curated by the Belgium-based Odoo S.A.
Odoo involves more than 30 primary modules that are routinely refreshed. What's more, in excess of 16,000 outsider applications/modules are accessible in its application store. Since it's a particular framework, clients can begin with a subset of devices and add modules depending on the situation.

Odoo can also integrate with other systems. Such as Amazon, eBay, UPS, FedEx and QuickBooks. iOS and Android apps are also available for the paid version.


Headquarters
Brussels, Belgium
Customers
7 million users
Deployment Model
Cloud, On-Premise, Odoo.sh
Implementation Service
Self, By Odoo or with local partner Nisus Solutions
Odoo Modules
Accounting
CRM
Website builder
Planning
Subscriptions
Consolidation
Timesheets
Invoicing
Inventory management and warehouse management
Manufacturing
Field service
Marketing
eCommerce
Point of sale
Project management
Helpdesk
Product Lifecycle Management
Human resources, including apps for Recruitment and Employee Referral
eLearning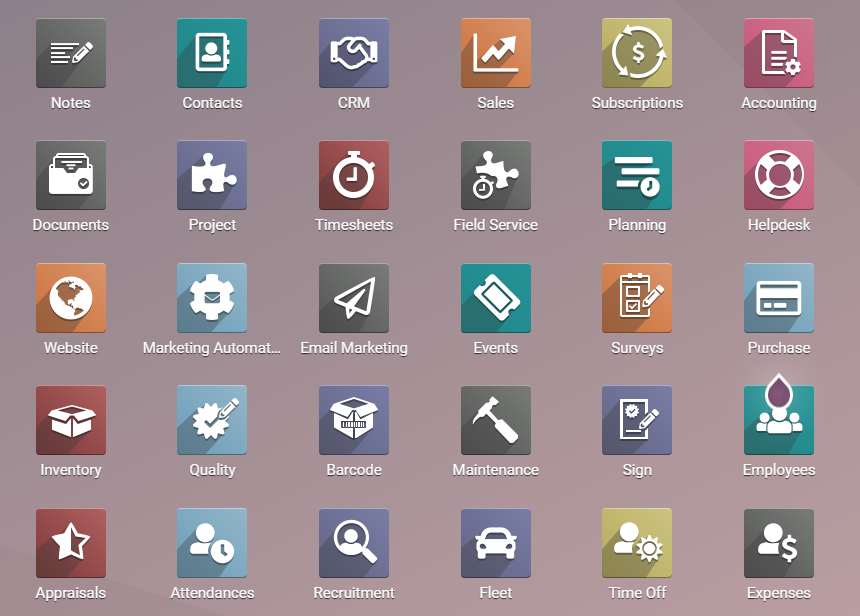 Odoo ERP with apps fits

Manufacturing companies

Distribution companies

Accounting firms

Marketing companies

Companies with field service operations

Service companies

Retailers, including online eCommerce

Consultants

IT companies
Any small businesses and mid-sized companies

Advantages of Odoo

Ease of use

Comprehensive selection of Odoo apps

Affordable pricing
Integrates with many third-party add-on software apps
Customizable

Scalable

Intuitive user interface

Security
Cloud based
Final Veridct
Discussing the last decision, Odoo is an arising ERP that coordinates numerous modules to better the organizations. It's been just 15 years, and Odoo is standing apart tall for SMEs' advancement, and it is doing it with next to no miss. Always select a trusted Odoo certified partner for your implementation!

50,000+ companies run Odoo to grow their businesses.
Join us and make your company a better place.